Ft. Lauderdale, Fl 33319
Tel: (954) 771-9577 | Fax: (954) 707-6560
E-mail: harpersracing@aol.com
---
Harper's Racing a Buick Grand National Specialist has been in the Southeast now for over 27 years and still running.
If you've been itching to make your Buick Grand National faster and even more awesome than it already is, you need to get it upgraded at Harper's Racing in Fort Lauderdale, Florida. Rick Harper has been in the business of racing and building high performance Buick Grand Nationals for over 27 years. He has successfully and consistently put them in the 11, 10, 9 and now 8-second quarter mile bracket and now for 2015 a new project should be in the 6's with the new 540 Cubic inch V-8 with twin turbos of Stephan Jacques out of Quebec Canada,
Harper's Racing has established clientele all over the country from Florida to California and as far north to Canada. Just in Florida alone, he has serviced over 840 satisfied customers. Rick's car racing experience dates back to the late 60's and early 70's when he drag raced Super Stock (SS/HA & B/SA, D/SA) Pontiac Firebirds. Working at Champion Racing Engines in Montreal, Canada in the late 70's, he was the Top engine builder in the area where he built small block Chevy and Pontiac engines. Eventually he moved to Florida. It was here Rick started experimenting and racing Buick Grand Nationals as a hobby. He was so successful with them that his friends convinced him to open a Buick Grand National high performance racing shop in 1990. Named Harper's Racing, Up to date, Rick has built over 685 motors. Rick is now working on three New Projects for this year, his first is a Grand National from Quebec Canada. The owner Stephan Jacques from St. Leon de Standon has a beautiful craftsmanship GN with a 540 cubic inch V8 Dart Block with twin Pro Mod 94 turbos. The car should run mid 6's' at 220 mph in the 1/4. The next project is Mike Mila with his 87 Grand National from Fort Lauderdale. Rick's expertise in building high performance engines for Buick Grand Nationals has spilled over onto his personally owned C6 Z06 427 cubic inch Corvette. Some trick modifications gave it over 480 rear wheel horsepower ( 560HP at engine crank ) with K&N Air intake system and the LS1 Edit performance tune, it produces 10.80.s@129 mph in the quarter mile on 325/30/18 Drag Radials with 93-octane fuel. It still gets over 30 MPG at 75 MPH. Rick also purchased a GNX in July of 2007 from the original owner out of Rhode Island. This car has always been garage kept and never driven in the rain. Now it's going to be only garage kept for future investment. His new project now for his own personal use will be a new 2015 Z-06 Corvette with the new 650 HP Super charge engine and a 8 speed automatic transmission. Should be on the market by June 2015. Check it out on the internet.
Call Harper's Racing for more details
Monday thru Friday 10a-4p
954-771-9577
Wholesale price and COST plus 4% on all PARTS.
---
Stephan Jacques's GN From St. Leon de Standon
Quebec Canada
Current Engine Specs (June 2012)
274 Cubic Inch
Buick 274" Block Stock Bore Stage II On center 14 Bolt Heads
4 bolt Main Caps and Custom 9 quart oil pan.
Duttweiller External Oil Pump system kit with remote oil filter system.
Moldex Crankshaft (3.625" stroke)
Carillo custom 6.500" connecting Rods
JE Pistons (Std. bore) with tapered chevy "Tool Type pins".
Comp Cam Solid Roller 258/246 720" lift.
T&D Racing Jessel 1.65 Roller Rockers "Jesel Style"
Stage II Chapman Racing heads with Custom Hi Flow valves.
Cometic Head Gaskets.070 with ARP 12 point head studs
Stage 11 Intake Manifold by Terry Houston
Precision turbo upper manifold and 90 ml Throttle Body
ATR New Design Headers for Stage 11
Custom 5" down pipe for New Pro Mod 90 from Precision Turbo
New Pro Mod 90 Turbo from Precision Turbo.
Custon Front Mount Intercooler with custom 4" Alum. Tubing
Siemans 160lb Injectors
New "XFI" ignition system with Traction control from Precision Turbo
Fuel System Is a 1500 HP Waldon External with Fuel Cell.
MSD Distributer Ignition System with adapters for MSD Digital Box.
Trans Brake Turbo 400 built by JW with Ultra Bell housing and low efficient torrington bearings for less "Rotating resistance".
New MSD Launch boost control box with Rev adapter.
Torque Converter
28.5" X 10.5 M/T *S* on 15 X 10 Welds with notch frame
Full Interior With Power Seats, Radio, ETC
Rear End - Mark Williams spool 35 Spline (3-90 gear) And Gun Drilled Axles with "C" clips Eliminator and 5/8" wheel studs.
10 Point Roll Cage with re-enforced control arm braces
South side bars and upper Bennett adjustable bars and Air Bags
New rear "Stabilizer Control Kit" from Church Fabrication.
New super Light front Steering system from Dusty Bradford with upper front billet control arms.
.
---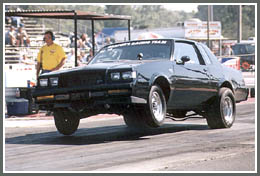 With the New 2012 combination, the car should run around
8.20s @170 Mph
---
Our Next Project was Orlando Granda's 87 Grand National
This car was built with ALL stock parts execpt for the Turbo and Cam shaft and injectors and chip.


The Engine:
Complete Stock Short Block with .020 Weisco Pistons. Errson Cam 214/214 Hyd. GM Delco valve lifters. 125 lb Comp Springs Heads, stock Intake valves 1.701 Ferrea exhaust 1.560 exhaust valve, stainless. Harlem Sharp 1.60 Rockers. 72lb Fuel injectors with a 28lb 7th injector. Red Armstrong 106 low timing chip. GTQ-74 turbo with .085 housing from Precision. Tight 3400 Stall Art Carr torque converter. 28.5 M/T 10.5 Slicks and 3.23 with Mini Spool
Took the car out to the track and these were the Et Results.
First pass:
15-lb launch, 5800 RPM shift, 30-lbs boost.
1.501 60' Short
6.24@111 in 1/8
9.92@136 in 1/4
Second pass:
15-lb launch, 5800 RPM shift, 38 lbs boost.
1.49 60' Short
6.29@108 in 1/8
9.96@135 with slight pop, (lean)
Third pass:
15-lb launch, 6000 RPM shift, 32-lbs boost.
1.481 60' Short
6.28@108 in 1/8
10.03@133 with leaning problem again
Last pass:
15lb Launch 6000 RPM shift, 30 lb boost
1.546 60' Short
6.20 @109in 1/8
9.908 @137 MPH. Still Lean


Once dialed in, the car should run 9.50's @ 140 MPH.
Maybe add a Trans brake, and now adding Red Armstrong's new EXT. Fuel pumps and lines. After these changes, we will keep you posted of the ET's changes.
STAY TUNE FOR MORE RESULTS.
Call Anytime For New Or Used Parts
---
Click on Any Image to Enlarge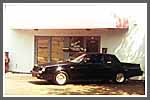 Come Visit The Turbo Regal Home Page

---
Harper's Racing
Ft. Lauderdale, Fl 33309
Tel: (954) 771-9577 | Fax: (954) 707-6560
E-mail: harpersracing@aol.com